Russell 2000 Chart – Oversold?
This Russell 2000 ($RUT) chart shows the past 3 months of daily prices after the index finished the week at 795.02 on Friday, November 9, 2012.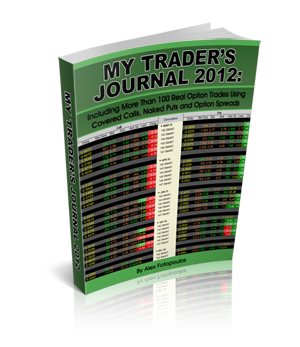 The trend lines agree that small caps have gone far enough south for now.  The index found support the past two days at the two trend lines of lower lows I drew.  The longer trend line shows the bottom, the shorter one allows for some exceptions.  The two converged on Friday and that's where the index bottomed.  A rally to the middle or possibly all of the way to the top of the trading channel is possible, but until there's a solid resolution on the fiscal cliff, don't expect to see RUT moving too far past 820.The first thing I noticed on this chart was that Williams %R hit oversold extremes on all three of the settings I watch, 14, 28 and 56 day intervals.  The indexes rarely hit -100 and when they do, it almost always means a bounce is coming two to three days later.  Monday will be the second day since the indicator signaled.  It does not necessarily mean the bounce will last a long time, so don't get suckered in too quickly.  If an extremely rare second showing of -100 surfaces within the next month, that'll be the time to start buying (actually two days after it) like there's no tomorrow.  This one just sets up what could be a good short term trade.  It could also be the sign of a bottom, but that's hard to buy on too heavily with the rest of the chart looking questionable.
The moving averages are going to play their parts for resistance along the way too.  The index is below its 10, 20, 50, 100 and 200 day moving averages (dma).  Each one of these will be an obstacle in the way of the bulls' better days.  Any strong area of support isn't visible in the past three months I charted.  Once an index is below its 200 dma, bears emerge from all corners, so be wary of any dead cat bounce.  Just to add to the bulls' pain, the 50 dma has crested and is starting to move lower.  Descending moving averages are bearish.  If the 50 dma falls below the 100 dma, expect the bears to maintain control for weeks to come.  We're not there yet, but that day could be here before the end of December, just in time to coincide with a failure on the fiscal cliff.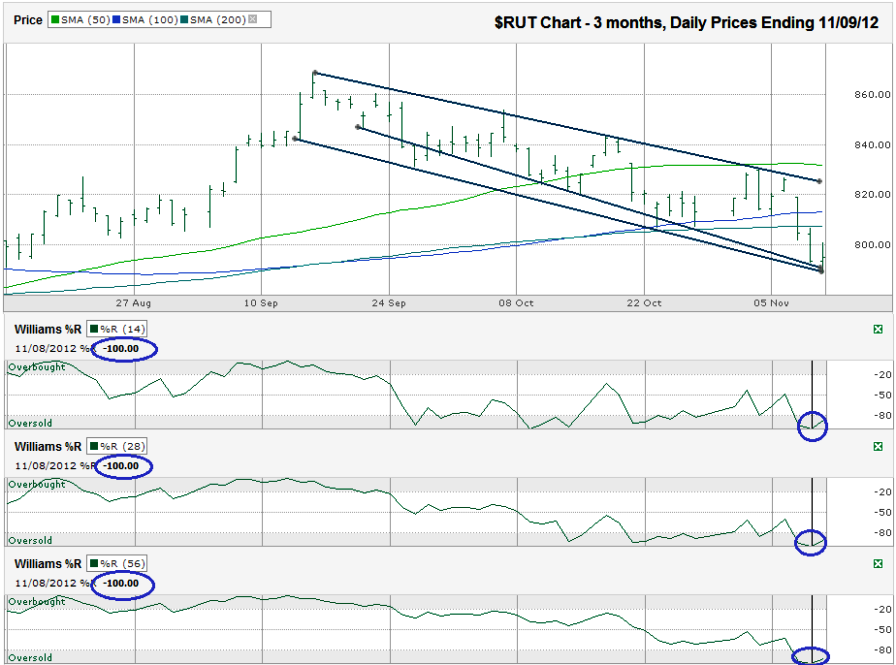 « « S&P 500 Chart – Not the Prettiest Picture - | - DJIA Chart – 3 Years, Monthly Prices » »
Comments Off

on Russell 2000 Chart – Oversold?