My Trader's Journal 2012 – Now an eBook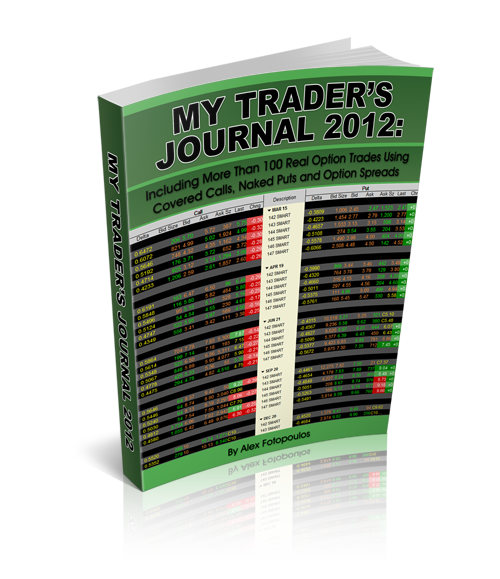 I am a published author as of last night.  (Well, at least a self-published eBook author.)  Thanks to the ease of publishing through Amazon ($AMZN), I turned all of my trade details from 2012 into an eBook.  Most of you who have been reading my blog for years won't gain anything new from reading it again in book form, but I have learned that a lot of people don't spend their time reading blogs like we do.  The next easiest option (no pun intended) for me was to create an eBook to reach a bigger audience.
The book, My Trader's Journal 2012: Including More Than 100 Real Option Trades Using Covered Calls, Naked Puts and Option Spreads
, is only available on Amazon so far.   For those who have already read my past year's worth of trades, you've already read the book essentially.  I need some positive reviews on Amazon to get some momentum building for me.  I'd appreciate any kind words you have to offer in the review section on Amazon.
My goal is to bring in more readers to this site and add more investors to join our conversation.  If I can make some money to pay for my time spent putting this together, I'd be even happier.  If I find that more than just my friends and family are buying this eBook, I'll try to get a paperback version out in a couple of months.  That also depends if I can find the time for it.  I need to figure out how to reformat it for print and I'm not sure how quick of a process that'll be.
« « Sold March SPY Naked Put - | - Options Expiration – January 2013 » »