Dreamworks (DWA) Waking Up
Could it be that one of my worst trades of the year will work out for me?  I sold three naked puts a few months ago on DWA only to see it drop big.  During that fall I sold six calls on it.  Three of those calls were covered with my shares gained through my naked puts and three were naked.  I screwed up with writing the calls and sold at market price which gave me an fill price less than the bid (thanks TD Ameritrade).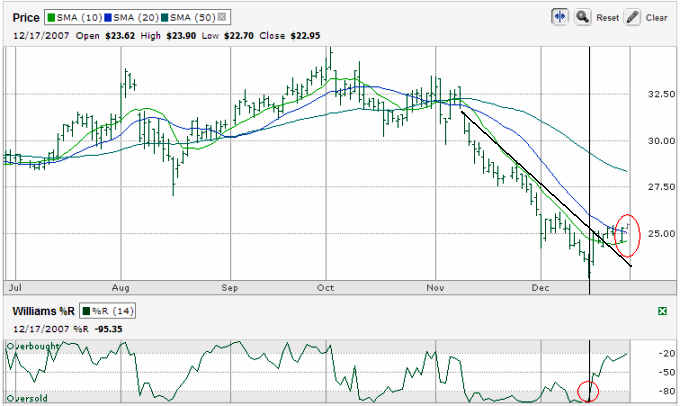 You can see in the chart above where DWA started to make a turn back up when it left the oversold area on the %R indicator and then it broke through the down trending line and finally it crossed over and held support above the 10 and 20 day moving averages.  I think a bullish crossover of these two lines is only a couple of days away.  That will only help my cause.
I saw this (half wishing maybe) this was starting to form last week and entered an order to buy back my calls.  When DWA opened at 25.29 this morning my order to buy back six January 25 calls (DWAAF) hit and I paid $44.49 with commissions.  That's a $60+ profit after I sold them at $105.50 a few weeks ago on 12/3/07.  Now I'm left sitting on 300 shares of DWA and have to decide if I should take the loss before the end of the year for tax purposes or hope that my theory holds out and DWA wakes up from this bad dream.
« « NVDA Naked Puts, again and again - | - Unemployed/Re-employed » »
Comments Off

on Dreamworks (DWA) Waking Up