Closed AXA Position + Account Status
I hated to do it, but I think it was the smart move to take my loss on AXA and move on.  It broke support a couple of weeks ago and fell below my strike.  That's when I should've gotten out, but I thought it was going to be a long term hold for me.  Then they came out and announced they were voluntarily delisting themselves from the NYSE.  Perhaps there was some knowledge of out there in advance or some insiders took advantage of it.  Either way, the stock fell, but then it recovered and I thought it might work out for me.  I still like the fundamentals and figured I could risk a few down months because it'll be back up before long.  With AXA's delisting planned for as early as the end of this quarter it can no longer be a long term hold.  It's been getting beaten up bad the last couple of days and instead of waiting for a bounce off its lows, I chose to cut and run.  While AXA was trading at 19.35 I bought to close four AXA February 22.50 naked puts at $3.30 each and paid $1,322.86 with commissions.
Originally I sold these AXA options for a net total of $297.20.  This gave me a realized loss of $1,025.66 on this position.  The good news is that I had $9,000 set aside to back my puts.  Now that's more cash I can put to work elsewhere when I feel we've hit a bottom or are at least closer to it.
————————————
I put this basic spreadsheet together with prices from just after noon today.  It shows me how I'm doing overall and how heavily invested I am right now.  Yellow options expire in February, orange in March.  I left my AXA trade in here with my realized loss in the right column.  The summary of it all is that I'm down about $1,622 from where I would have been if I had not sold any of these options.  (This does not use the current option prices.  I'm considering what the value would be if they expired at this minute without time value.) For my one long position, UCO, I have edited my cost per share with each option premium I've sold starting with the naked puts that got me into the position originally.  I'm left with $20, 462.90 before I'll need to go on margin if everything is assigned and I don't buy back any more options.  That's almost 79% invested for me right now.  Clearly I started adding new positions too early into this correction, but I'm glad to have $20k to work with when I decide the time is right.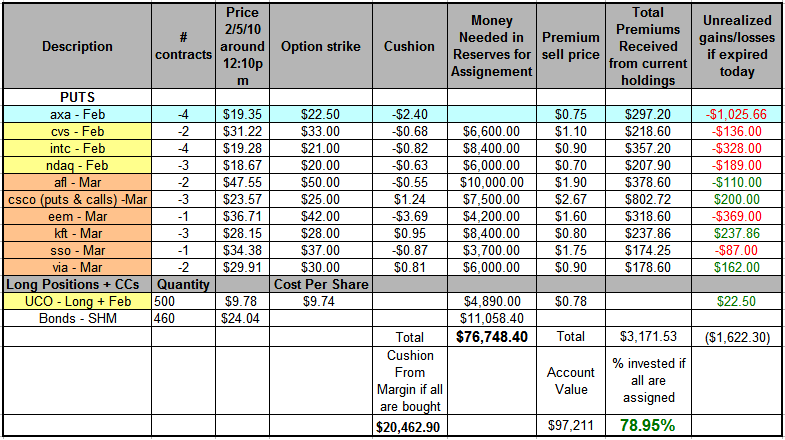 « « Adjusted CSCO Mistake and Added KFT Naked Puts - | - S&P 500 Chart – February 5, 2010 » »